My friend Alison is waiting right now with baited breath for her second son "Scrumplet" to arrive. If I remember correctly, these last few weeks have been full of sleepless nights, irrational (and rational) fears and it's probably impossible for her to get comfortable unless she's suspended in water.
Since Alison lives in Malaysia, the Interwebz – named Stasha, Ado and Erica – are throwing her a virtual baby shower.
You're totally invited, by the way. Write a post with your favorite baby photo, tell everyone why you love it and then include your favorite quote about motherhood. Or, guess Scrumplet's birthday, length and weight. OR share a gift from Pinterest that you'd give Alison.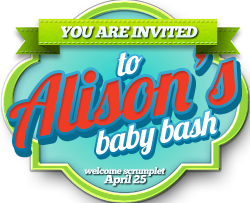 Or, you know, do all three. Like this.
Dear Scrumplet,
Your mama is a pretty tough chick. She's nervous right now, so I'd appreciate it if you'd cooperate and arrive on May 7 before lunch, and weigh a perfect 3.3 kg and be 49.5 cm long.
If I could afford the shipping, I'd send this to your mama to have waiting for you both. 'Cause she does, and I'm sure you will be. After all, over the last year I've watched your big brother turn from a baby to a boy right along with my little guy.
Your Mama calls your brother Monkey, just like I call my son.
This is him when he was a few months old. It's one of my favorite pictures because his hair is hilarious, his eyes are so blue, his dimples are on display and his nose is tinted just the tiniest bit orange because he wouldn't eat anything but sweet potatoes and carrots.
My Monkey is a handful. He is smart and ornery and mischievous. He is busy and intense and hilarious. When he gets into trouble, I have to put him in time out and step out of the room so he doesn't see me laughing. I'm not sure how I will hide this laughter from him when he gets older, only I know I have to so he doesn't grow up to be a brat.
I'm sure your mama understands what I mean, and I bet she's probably familiar with this quote:
"My mother had a great deal of trouble with me, but I think she enjoyed it."
— Mark Twain
Get here soon, Scrumplet. Safely, please, and go easy on your mama. We're pretty fond of her.
Mamamash